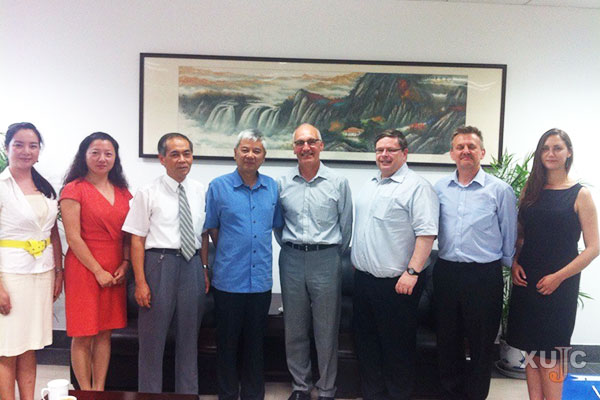 On the morning of 9th September, 3 visitors from the University of Southampton came to TKK. They were Mark Cranshaw, dean of the Confucius Institute and the director of the Contemporary China Centre, Chris Sinclair, director of Linguistics Research Centre of the Faculty of Humanities, and Dr. Jan Podivinsky, director of Centre on International Cooperation of the Academy of Social Science. President Wang had a talk with them and invited them to attend the 10th anniversary of TKK.
The University of Southampton is one of the TKK's cooperative universities. Both sides have a good cooperation relationship on the project of"3 + 1" at the moment. President Wang expressed great expectation on deeper cooperation during the talk.
The visitors also had a talk in depth with Zhu Zhiqiang, Vice-President of the Department of International Business, Yang Kun, Dean of English Department, Guo Jie, the head of the International Office, and Zhu Yingbei, representative of the Department of Humanities and Communication. They discussed the possible areas of cooperation with the visitors. The cooperation intentions of the "3 + 1" project on majors of business, management and other humane categories were initially decided. Mr. Cranshaw said that studying abroad not only allows Chinese students to experience different teaching style and learn English better, but also provides a purer British cultural context to widen their vision. The Project "3+1" helps students adjust to the British teaching style and prepare in advance for the postgraduate courses.
On the afternoon, Mr. Granshaw gave a speech to TKK students in which he introduced students' life at the University of Southampton. The visitors also toured the campus.
Translated by: You Xiaoshan